Do you dream of your words going viral, spreading across the internet just on the basis of their power and influence?
Are you ready to call in your tribe?
Do you need to kick start your life?
Is it finally time to align your intentions to your reality and step up your game?
Do you have a message the world needs but are not sure how to package it pretty and wrap it up in a bow that everyone wants to open?
Is your spirit calling out for expression or does your business need to stand out from the pack?
But wait a minute – what is a manifesto exactly?
---
Your manifesto is…
A call to arms. A battle cry. A letter to your inner child and your future self. A peace treaty. A seduction. A snapshot of the here and now. A plan for the future. A demand for commitment and the birth of change. A way to challenge assumptions. A creation that gets right to the red-hot heart of the matter. The language of your soul. An invitation to a serious party. A way to capture your own personal zeitgeist. The solution to a problem. A line drawn in the sand. A signal to like-minded people. Hardcore & badass. A message of forgiveness.

 A whole lot of self-love. A crowd-rousing anthem with the power to change everything.
YES. EVERYTHING.
Your manifesto is the essence of you, distilled down to one piece of writing that says it all.
The Program
Write Your Manifesto is a four-week digital, self-paced experience.
Take your time:
Get access to the first section of the workbook as soon as you enroll and move through the process at your own speed. Each of the four sections is designed to take approximately one week. Devote extra attention to the workbook or finished product section as needed – you call the shots.
Private Facebook Group:
All manifesto participants get access to the private Facebook Group, where you can connect with other bad-ass manifesto writers, ask questions, exchange ideas and access the latest and most fantabulastic copy of the ever-evolving Write Your Manifesto Workbook.
Need some extra help?
Upgrade to the DONE FOR YOU program – where together we'll take your words and mold them into magic – including creating a finished graphic print, digital magazine or typography video of the finished product.
Free Bonus:
Once your manifesto is complete – you'll also receive a bonus chapter, with tools to show you how to use the content in your workbook to create writing prompts, essays and content for your business.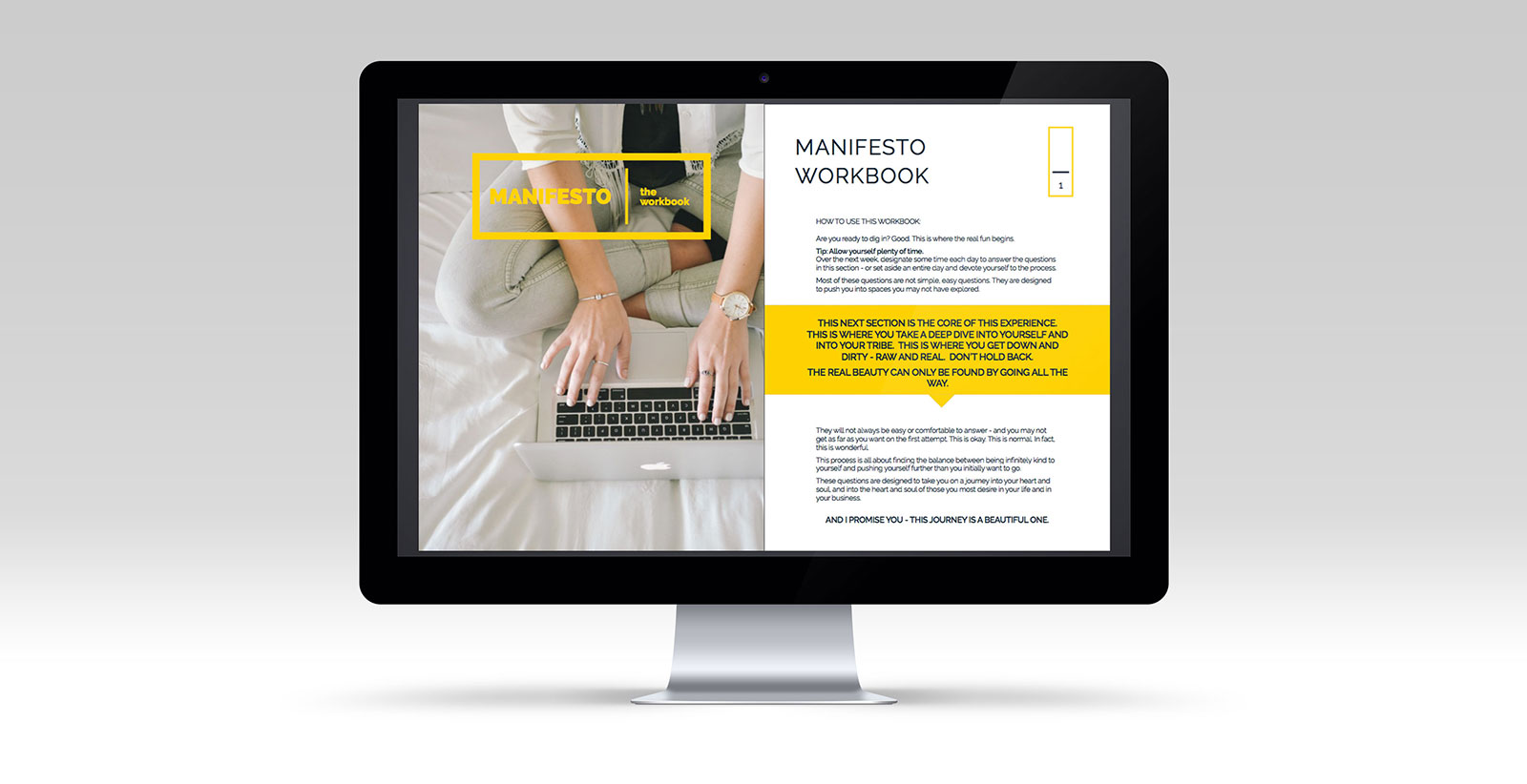 Section One: The Intro
What is a manifesto and why do you need one? Learn about the potential for your manifesto in your life and business. Determine your 5 W's and warm up with some easy one-liners before digging into the nitty gritty. Includes resources on free-writing, beating writing blocks and necessary supplies.
Section Two: The Workbook
This is where things heat up! You'll find questions that make you think, feel and dig deep – excavate your essence and magic and get it out onto the page. These are not easy questions – they are designed to connect you to your power, to define what makes you so damn special and to help you get past what holds you back.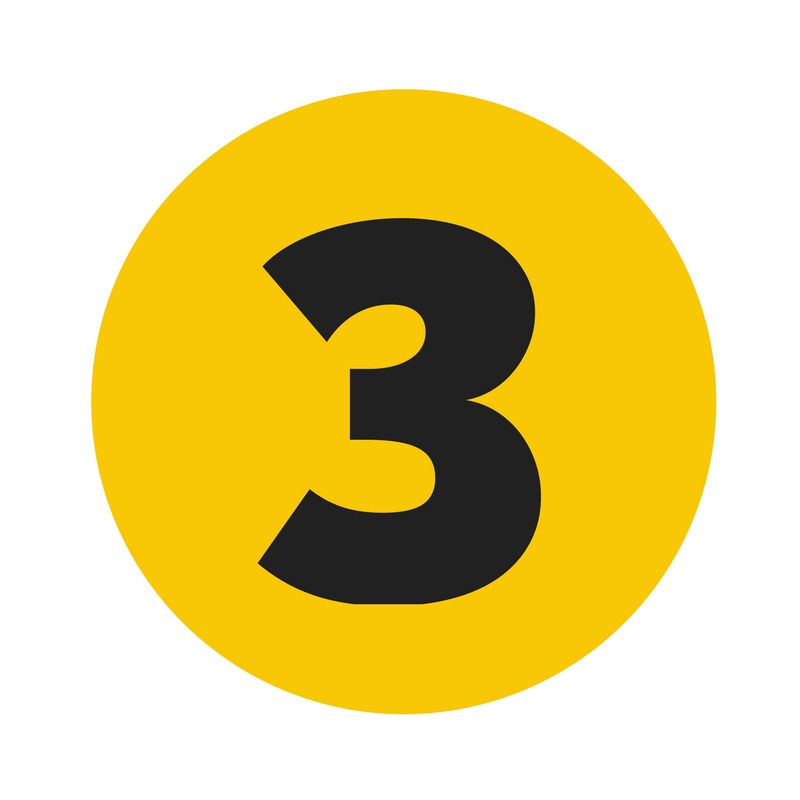 Section Three: Mine For Gold
The words you spilled in section two will be the raw material from which your manifesto is born. Now it's time to find the hidden gems – the words and phrases that make your heart skip a beat. Here we dive into my 'mining for gold' process to find those powerful lines that demand the spotlight,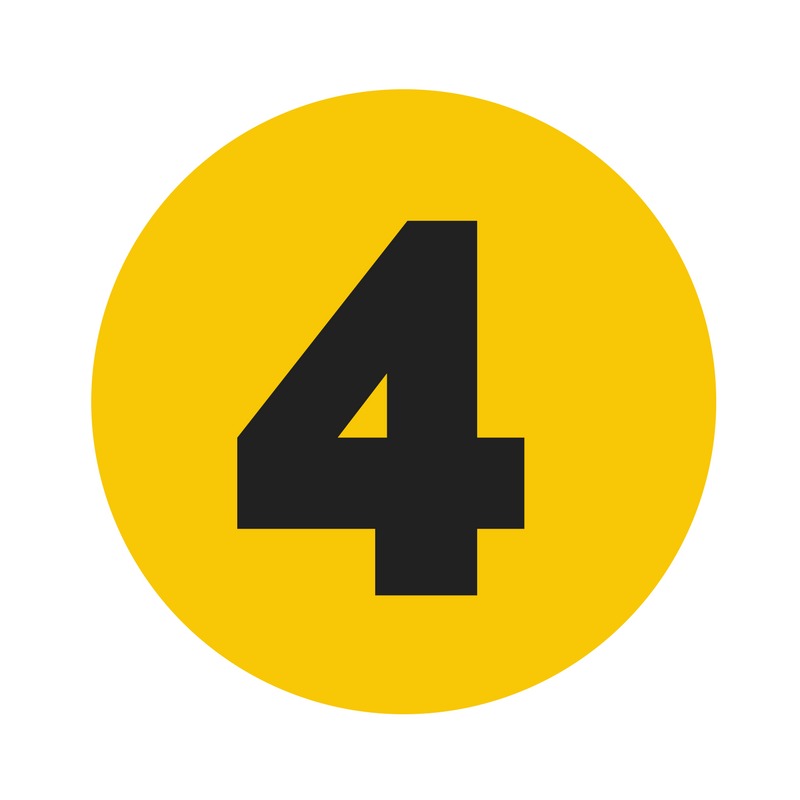 Section Four: The Finished Product
Take the lines you unearthed in the mining for gold process and craft and polish them into a finished manifesto that makes your heart sing. Then design and format your manifesto into a piece you can't wait to share with the world. Includes case studies, plenty of visual inspiration and guidance on launching to your audience!
Section Five: Special Bonus!
Give this your all and end up with far more than a manifesto. Your work can provide endless writing prompts, topics,  fully written blog posts, website copy, course and supplemental content. In this bonus section (delivered once your manifesto is complete) I show you exactly how to use your workbook writing to fuel your business or personal writing.
The Workbook
The Manifesto Workbook includes 100+ beautifully designed pages to move you through this powerful process.
Download a section at a time and work digitally or print the whole thing (on eco-friendly recycled paper, naturally) so that you can write on the margins and get your hands messy.
Special Pre-launch pricing:
The Manifesto Program has been off the market for over a year while I revamped and made it bigger and better than ever.
The program official re-launches on April 1st. Purchase now for a huge presale special!
Yes – I want the pre-launch pricing!
---
Manifesto Love Letters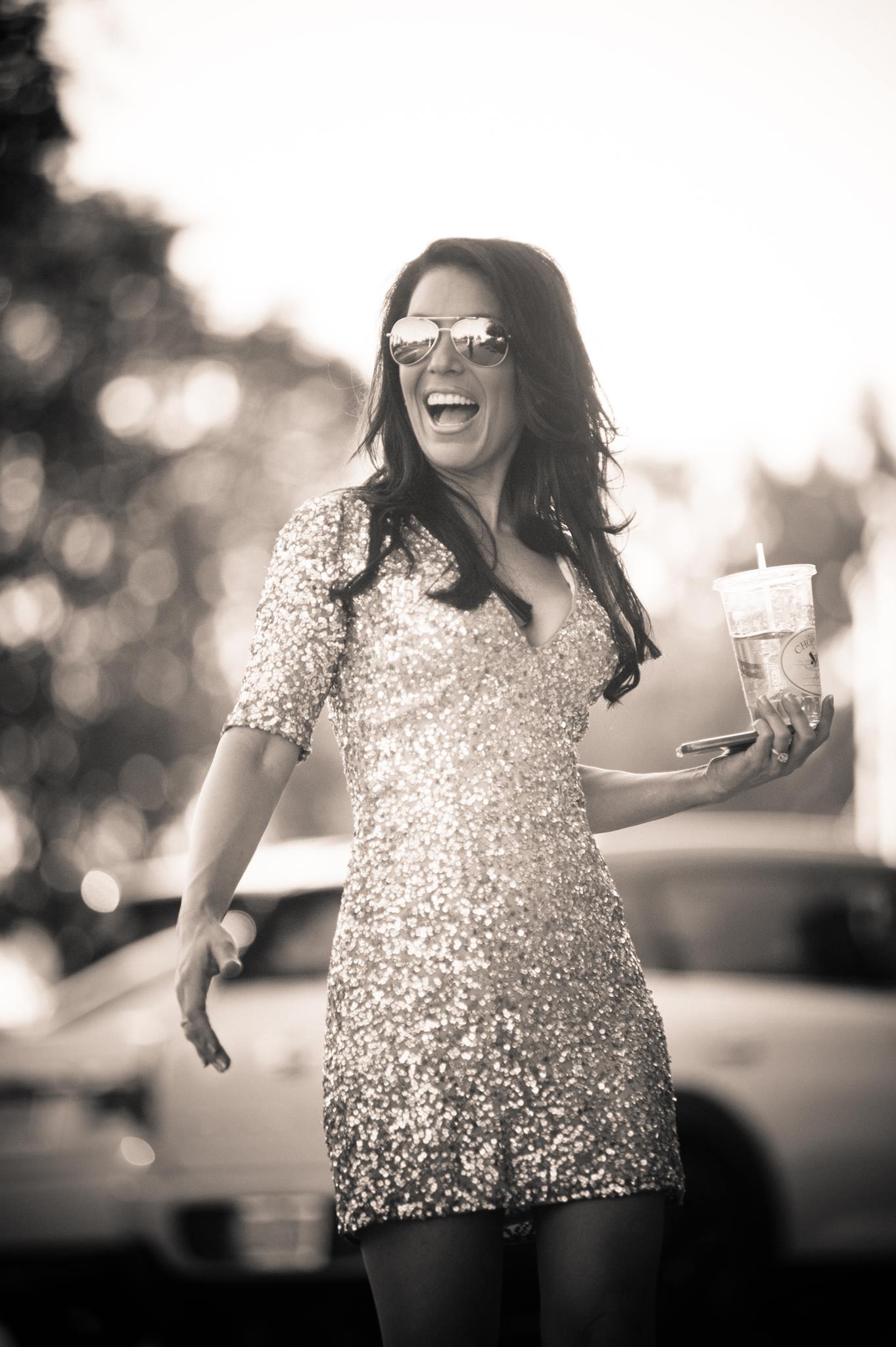 Dear Jeanette,
Your Manifesto Course was like a magical discovery ride into the depths of my soul, allowing me to clearly see my unique gifts. It pushed me to my limits and gave me permission to shine.
For me, my manifesto is my compass and guide post, providing me with clarity, direction and strength. It grounded and centered me during a time of feeling lost and unsure.
I have it printed and hung on my wall, set as a screensaver and featured prominently on my website. It is my creed and way of staying true to myself. Every time I read it I am reminded of my mission, my values and my purpose. It keeps me going!
Jeanette, you had the ability to see through my words and grab my true essence. Your guidance enabled my greatness and soul to shine.
The experience was far more than anything I expected – in fact, all of my website copy was derived from our manifesto work AND I ended up with 50+ blog post topics and the content for my first course.
Your skills go far beyond copy – you are a magical combination of artisan, illuminator, and content strategist. I think you are fabulous, a fucking rock star, a muse for wanna-be writers and all around general bad ass.
I love working with you!
xo.
Amy Gavartin
amygavartin.com
---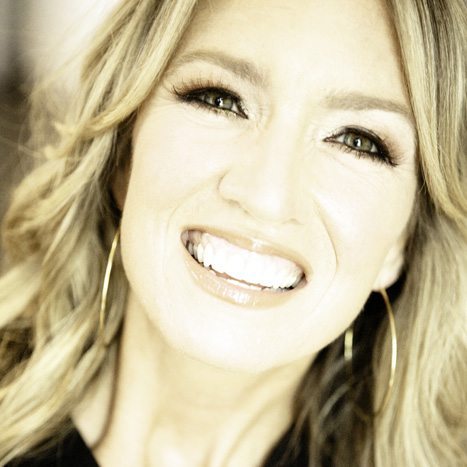 Cherie Healey
One Woman Effect
cheriehealey.com
"I found Jeanette somehow magically online through a piece she had written called, "You're not too much." It gave me chills. Then I followed the link to her site and found that she helps women write their manifestos. I had been trying to give birth to my manifesto for years. I had tried programs of all kinds and none of them led me to my truth. So I called Jeanette and instantly felt seen, heard and so deeply supported. I had to work with her. In just under 2 weeks, I had not only a Manifesto, but an Invocation and a Call to Arms to help ignite women all over the world. What Jeanette does is genius. She has you fill out the most powerful workbook of questions (wine and good music are required). Then she pours over everything you've ever written. Then she pulls out the gold and gives it back to you. You keep whatever gives you goosebumps and then with a final touch of magic, she produces your truth. The most amazing piece is this: she put my words together, not hers, in a way that everyone who hears them is brought to tears. I wrote it, but I couldn't, could not, have done it without her. You need a mirror. Someone who makes you feel safe enough to stop editing yourself and really speak your truth, fearlessly. She gave me the space to really be me. No one out there does this like Jeanette. Everyone should be lucky enough to have her as their mirror."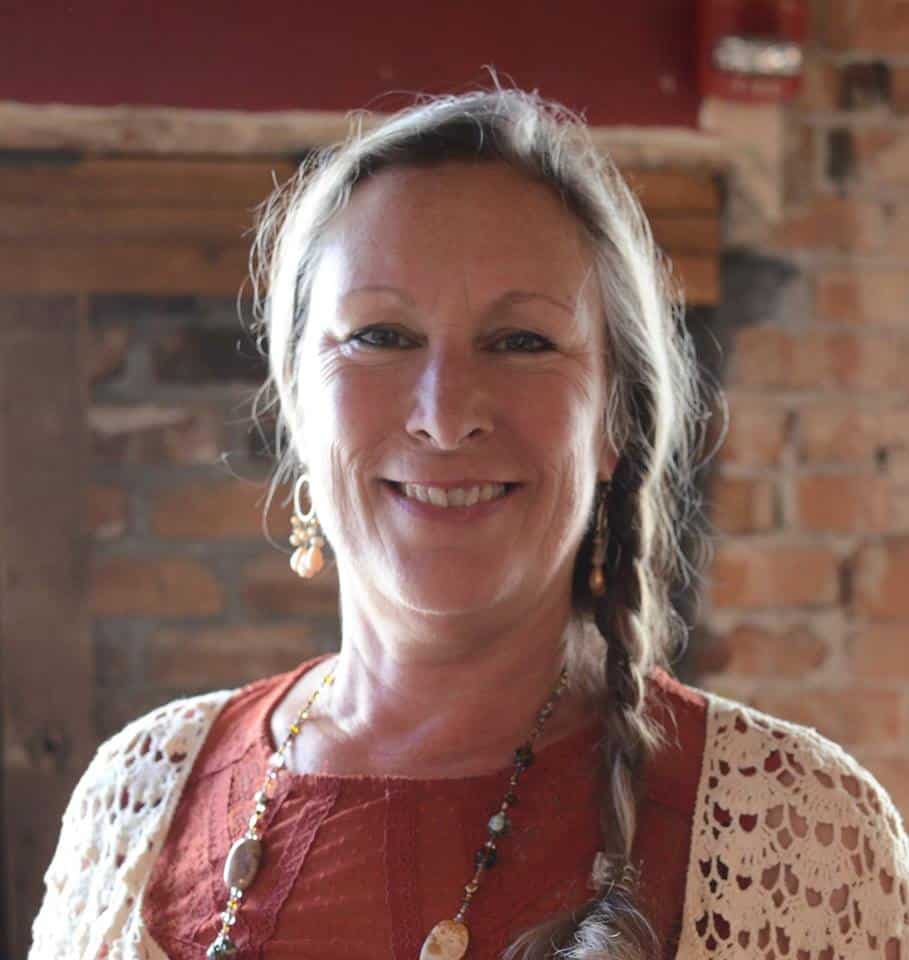 "The manifesto process was very insightful and enlightening. Jeanette led me through the process with prompts and questions that flowed intuitively and easily.
If you want to get your words out of your own way and into the world or just on paper you need to work with Jeanette LeBlanc. Right now.
I have been working with her for a couple of years with fantastic results. She will take what you have, look through it, swish it around and send back to you in a such a beautiful way you will find yourself saying "I wrote that?".
She finds the gems in your own words and holds them up for you to see and own. Own them. Right now. A true wordsmith extraordinaire."
Laura Brandlen
Giggling Sisters
gigglingsisters.com
I went into this course with very little confidence in my writing. I'm a photographer and a visual communicator, and written language was very intimidating to me. I always knew I had a lot to say, but when I would try to write, I found myself staring at a blank white screen and couldn't bring myself to put any words onto the page.
Jeanette was a gentle guide but she also pushed me through my hesitant moments and didn't let me hold onto the excuses I had been telling myself. She inspired me to go deeper and to have fun with the process and now when I read my manifesto I still think, "Wow, did I actually write that?"
Write Your Manifesto taught me that with the right prompts and writing practice, I can tell my truth in my own way with big impact. It opened the language of words to me. Without it, I don't think I'd be writing today. For someone who had an intense inner critic to get past, this was the perfect place to start.
Winona Grey
Sacred Self Portrait
winonagrey.com
Are
YOU 

ready for your

manifesto

?
---
Are you ready to experience the manifesto revolution?
Your manifesto.
It will be your battle cry. Your peace treaty. Your rebel yell. Your 'here I am world, hit me with your best shot' affirmation. Your 'come hither, you know you want more of this' siren song.
It cuts through the bullshit, polishes up red-hot core of what remains and delivers it to the world without apology or explanation.
Your manifesto does not require clarification. It just is.
In a handful of well-crafted words, your manifesto says:
THIS is what I stand for. THIS is my passion. THIS is my art. This is my life, and this is EXACTLY how I intend to live it.
Yes – I am ready to write my revolution!
---
How this works:
You're going to start by taking a deep look at YOU.
Your business. Your passions. Your life. Your fears. Your talismans. The deep-rooted soul song that gives you the strength to keep going. Your wishes and dreams and superpowers.
The workbook will help you dismantle boxes, blast through writing blocks and start digging deep into the core of you and your brand.
When it comes to manifestoes, no two are alike. In form and function. In depth and focus. In tone and style. You are one of a kind – your manifesto should be as well.
Are you a songstress?
Perhaps the muse will move your manifesto through music.
Graphic Artist?
Get down with the perfect font and plenty of white space, baby.
Fashionista?
Rock your manifesto out – vogue editorial style.
There are no limits here.
Rebellious anarchist + crunchy yogi + shoe fanatic?
No problem.
Corporate dominatrix + death metal drummer + closeted country music fan?
Relax. I gotcha covered.
Badass life coach + sappy love poet + chocolate covered pretzel addict?
Oh hells yes. bring. it. on.
This course will help you dial directly into what lights you up, channel your fierce moxie, your goddess fire, your gentle loving heart, and your inimitable style. Then we'll coax it all out into the light and let it shine.
Then you'll take all that bright, shiny amazingness and dig into it to unearth the very best of the best, craft and polish those lines into a piece that represents you in all your brilliance.
The next step is to decide what the finished product will look like – you'll have access to plenty of inspiration, several case studies and directions to some DIY design options, as well as some additional assistance with the process of revealing your finished manifesto to the world.
Damn – now that's beautiful!
Don't want to DIY?
Choose my DONE FOR YOU option.
The DONE FOR YOU program includes one-on-one support with me + finished professional manifesto design.
Once you've completed your workbook you'll send me all the goods. I'll take time to pour over them and hand select all the most powerful lines and phrases.
We'll schedule a video call where we'll laugh, possibly cry. Wine + multicolored sharpies are suggested, though not required. Together we'll hone your raw brilliance until your manifesto is well on it's way to rocking your world.
I'll help you find the words that make your heart pound. The truths that set you free. The life lessons that altered the very fabric of your being. The language that sets your soul on fire.
Then we'll sweet-talk and seduce these into a killer manifesto that tells everyone – your tribe, your customers and the world – exactly how flat-out phenomenal you are.
You'll also receive follow-up email support as we move through the phase of fine tuning and crafting your manifesto into the sort of perfection that can only lead you straight on the path to word domination, an unlimited supply of chocolate and mascara that never runs. Did you expect any less?
The Done For You program also includes access to my pre-selected designers and the option of having your manifesto turned into a dazzling print design, a page-turning digital magazine or a killer typography video. No need to track down a designer or mess with DIY design tools – this program will take you right to a beautifully designed finished product.
And when those peeps get a glimpse of the wonder that is you and your brand – translated through your brand new manifesto – they'll be clambering for more.
Ongoing extras:
Access to special bonus offers from partners, including magical graphic designers and business coaches who will help you take your manifesto to the next level and integrate it into your business or life in a way that makes perfect sense for your goals.
Lets rock this out, sugar. We're going to have one hell of a time.
DIY MANIFESTO
$249
Manifesto Workbook
Private Facebook Group
Buy Now!
DONE FOR YOU MANIFESTO
$897
One-on-one support + complete design!
Manifesto Workbook
Private Facebook Group
One-on-One Video Conference with Jeanette
Full support in taking your manifesto from raw brilliance to polished perfection
Ongoing email support until you head over heels love your manifesto
Completed design of art print, digital magazine or typography video
Payment plans available
Buy Now!
Special Bonus Section:
You didn't think this was JUST about your manifesto, did you?
First – the questions in the workbook are going to take you on a journey into yourself. One that will unlock doors and blast down walls. A journey that will get you writing your way into a deeper knowing of yourself, your dreams and your direction.
And if that wasn't enough…
The first time I offered this course I quickly noticed something delightfully unexpected.
As I was reviewing participant workbooks, I was pulling out WAY more than just the copy for a single manifesto. While mining for gold I discovered countless ideas for blog posts or more extensive essays and even almost fully written pieces that just needed some expansion and editing. I uncovered the basis for speeches and conference talks. I pulled out quotes that could easily be transformed into social media graphics. I found lines that left me wanting more – the clearest indication that these were prompts for some powerful writing. The workbooks held the basis for website opt-ins and basic content one participant used to create a free course for her audience.
You see, my second most important superpower (the first is not being ticklish, at all) is my ability to unleash powerful words from people – like you – who think they can't find the right ones.
After the unleashing comes the alchemy – I know how to magically transform those words into infinitely more words, prompts, ideas, topics and content than you'll know what to do with. In the simplest terms- I can show you how the work you've already done can create a writing and content gold mine.
How it works:

Once you've completed your manifesto (and not a minute before) I'll send you the bonus chapter which will share exactly how I transform raw material into that well of content that will help fuel your writing practice or your business in the months to come. If you're ready for even more, we can work together one-on-one to dive into your content from my unique intuitive marketing perspective. By the time you're done, you should be surrounded by potential stories, posts and ideas. Whether you are in business or on a personal journey – you'll have no shortage of options.
The Story of My Manifesto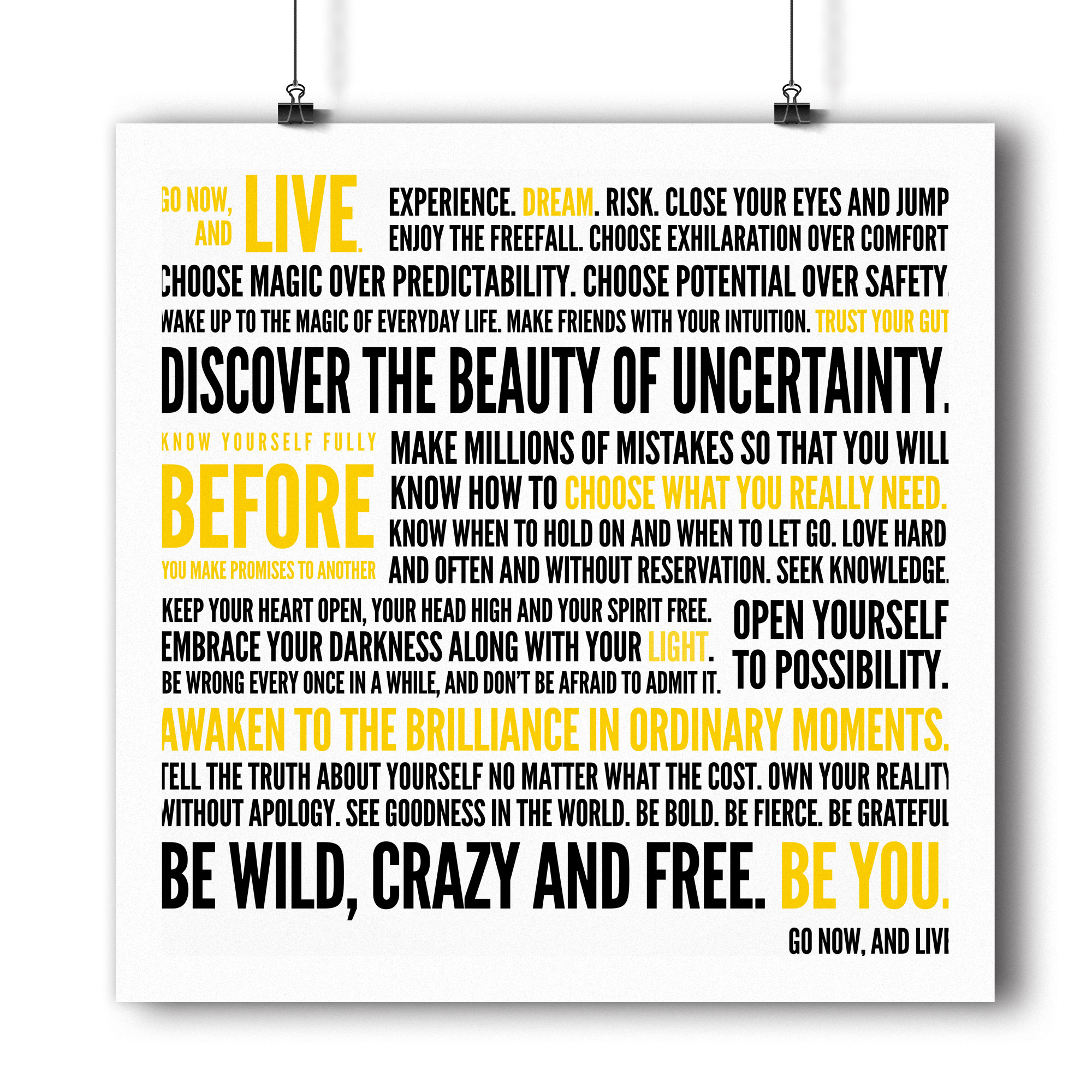 Go Now and Live. It seemed like the opposite of what I had been living.
My manifesto came to me late one night, in the final grief-filled days of my marriage. Life was crumbling around me and I was paralyzed with pain and fear.
I scrawled furiously in my journal, traveled back in time and wrote directly to my 21-year-old self – that shy, play-it-safe girl who had no idea just how big her life could be.
'Go Now and Live' I wrote. 'Own your reality without apology'. 'Be wild. Be crazy. Be Free. Be You.'

Through some combo of magic and serendipity and utter happenstance, those words traveled virally throughout the Internet, shared and shared and shared again without my knowledge or intention.
They have been inked on the skull of a cancer patient; they have woven themselves into the love stories of people across the world. They became the art print that once formed the backbone of my online business.
And almost a decade later – those words are still shared on the web and across social media.
Those words are my manifesto. Now, let me help you craft yours.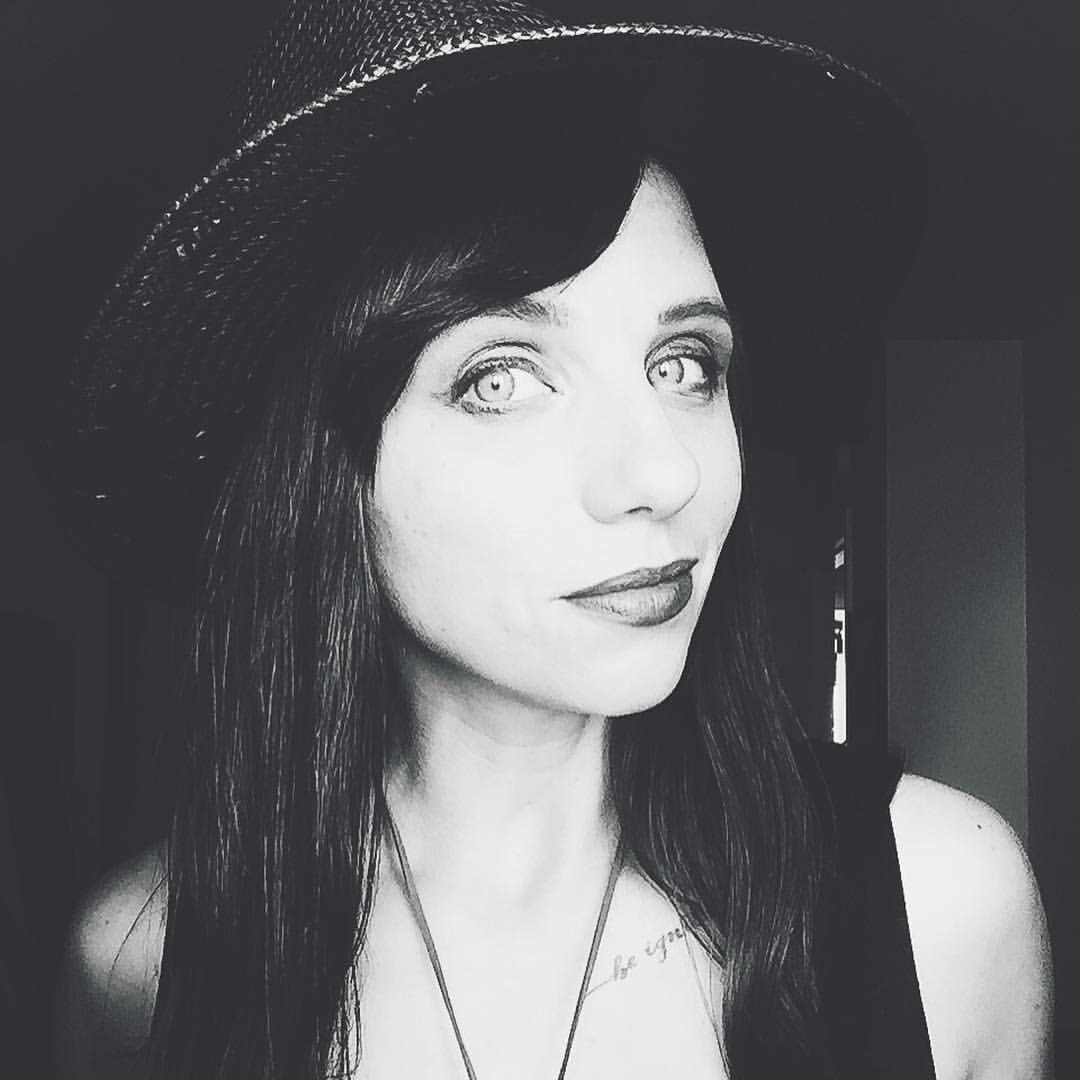 Hello, lovely.
I'm Jeanette. I'm a wild hearted writer, writing workshop facilitator and intuitive marketing guide. I work with fellow wild hearted souls to unleash their words and transform their story into content that creates change – in their lives, in their business, in the world.
I believe deeply in the transformative and revolutionary power of YOUR manifesto.  Which means I also believe deeply in the transformative and revolutionary power of your story.
I also believe in the power of this process. Not only will it give you the tools and structure to create a manifesto that inspires, ignites and guides – but it will also help you unearth your truth, unleash your voice and create the kind of writing and content that makes a difference.
One last thing. No matter what you tell yourself, I believe that YOU are a writer. If you weren't – you wouldn't be here. And because you are here – because you were called to this page by some mystery or serendipity or intention – I also believe that you are ready. Ready to unleash. Ready to unbind. Ready to release the chains that have been holding you down and to leave behind the stories that keep you small.
It is time. You are ready. Write yourself free.
xo.
J.
Hell yes – it's manifesto time, baby!