These words were written four years ago, at the junction between the end of one life and the beginning of another.  They were my path to boldness when I felt like hiding, solace in the midst of pain, and a reminder to keep moving forward.  Since then they have traveled organically around the world on the mysterious waves of cyberspace – ending up on posters, and in books and even inked on the bodies of strangers.
For the very first time I am making Go Now and Live available as a fine art print in a brand new design.*  The print is currently available as a signed 12×12 print on Fine Art Linen paper.  Other sizes and products (including notecards) are in the works.
I feels good to do this at the start of a new year.  Sending my words out to all of you, with intention and trust and faith that these can lift and stir something in your spirit just as they did in mine.  And I will kiss every print and send it on it's way on wings of wild, crazy and free,  dreaming beautiful dreams of all the travels these words will take before they are done.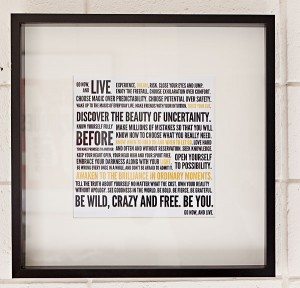 Go Now and Live, sweet souls. This is your year. I can feel it.
Purchase your copy of Go Now and Live or to read more of the story behind the words.
*created by the delicious and delightful Amanda Farough of violetminded Designs.
{all words and design copyright 2012 Jeanette LeBlanc & Amanda Farough}